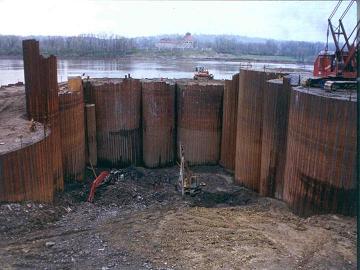 GENERAL INFORMATION ABOUT THE FIRM
The practice of HARTMAN ENGINEERING is concentrated in two primary areas. The first is the design of excavation protection systems, i.e., cofferdams, anchored walls, underpinning, slopes, shoring and bracing. The second is the evaluation and design of repairs for unusual structures, structures seriously damaged by foundation problems, loss of structural support, construction problems, etc. The two areas are closely related because both involve understanding and working with the interaction between geotechnical and structural engineering.

Because the work is specialized, our practice extends over a large geographical area, both domestic and interational. Dr Richard J. Hartman, Principal of the firm, is licensed as a professional engineer in thirty-seven states.

EXCAVATION PROTECTION DESIGN EXPERIENCE

HARTMAN ENGINEERING has provided excavation protection design and consultant services since 1968 and has designed hundreds of excavation protection systems. We also perform investigations, write reports, and advise clients in cofferdam failure situations. In addition to work in the United States, projects have been designed in Puerto Rico, Panama, Egypt, and the Marshall Islands.

EXPERIENCE WITH DAMAGED STRUCTURES

Our work in this field involves initial response to situations of heavy damage to buildings and towers. Depending upon the situation, HARTMAN ENGINEERING sometimes designs the remedial measures and provides inspection during the repair work. Four of the most significant projects are described below.

The firm provided initial emergency response to Jones Memorial Hospital in Wellsville, New York, when the foundation soils were being eroded by a flooding river. During the emergency the movement of one wing was halted and one wing collapsed into the river. Subsequently, the firm supervised salvage efforts and designed lifting systems for leveling the damaged portions of the structure.


When construction problems seriously endangered an eight-story, reinforced concrete building under construction at Cornell University, HARTMAN ENGINEERING provided emergency services. Initial safety evaluations were provided and monitoring systems for the structure were setup and maintained.


HARTMAN ENGINEERING was involved in rehabilitation of a newly constructed condominium building in San Juan, Puerto Rico. Two parking levels were constructed below sea level and the lower slabs were lifting due to the water pressure. The firm diagnosed the problem, designed the repair system, and provided inspection during implementation of the repairs.


In Oswego, New York, a 200 foot long portion of loading dock was heavily damaged by a falling grain elevator which was being demolished. The liability insurance carrier was our client. HARTMAN ENGINEERING completed supervision of the removal of underwater debris from the harbor and inspection of the dock to establish the extent of damage. We then designed the repairs and supervised the reconstruction.

RESEARCH AND DEVELOPMENT ACTIVITIES

Consistent with our expertise in design of sheet piling installations, in 1991 and 1992 HARTMAN ENGINEERING performed a research project related to the strength of steel sheet piling for Bethlehem Steel Corporation and the L. B. Foster Company. The project involved full scale testing of sheet piling to determine whether a difference in strength exists between sections with equal strength parameters, i.e., section modulus, but manufactured by different processes. It was established that a large discrepancy exists between sections supplied by different manufacturers. A second phase of the project was to develop an analysis procedure and a new design method for selecting steel sheet piling for use in retaining structures; the design procedures are being well received by code writing agencies (U.S. Army Corps of Engineers, AASHTO, etc.), and it is anticipated that the work will result in significant changes in the procedures used by engineers to design sheet piling walls.

In 1997, Bethlehem Steel discontinued rolling structural shapes, including sheet piling. Chaparral Steel Company of Midlothian, TX, is now rolling sheet piling, and HARTMAN ENGINEERING has been retained by them to design new sheet piling sections. Because of the research and the new procedures incorporated into design of the sheet piling sections, we were granted two patents by the U.S. Patent Office.

For several years, Dr. Hartman has been presenting seminars to engineers to teach them the design of steel sheet piling structures. Discussions include straight web piling and cellular cofferdams, flexible walls of Z-shape and U-shape piling. Also discussed are the properties of Z-shape piling including the results of the research conducted by HARTMAN ENGINEERING.