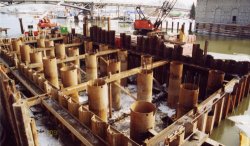 WELCOME TO HARTMAN ENGINEERING
We hope to show you in these pages what HARTMAN ENGINEERING is all about. Our firm has many years experience taking on the challenges of difficult design problems in the specialized area of cofferdams, retaining walls, foundation support, and damaged structures

In addition to design, HARTMAN ENGINEERING has been involved in research activities to improve the physical qualities of steel sheet piling. As a result of this research, new design criteria have been developed to incorporate the effect of transverse stress in sheet piling.

Dr. Richard Hartman, Principal of the firm, is an internationally recognized expert in the field. Using his knowledge from years of experience, he has provided valuable training for engineers and contractors through many seminars and training sessions.